Sexy Selfies – Sexy Text Pictures From Hotties –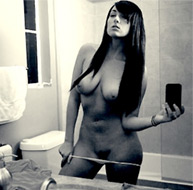 Want to Swap Sexy Selfies? A sexy selfie is a sexual texting term, used as a form of foreplay. Men and women both participate, it sets the tone for the kind of romantic play they would like to encounter when they meet one another. Sexting nudes is done with consenting, consensual adults, who want to get each other hot and horny with some before sex chat and pic trades.
Selfies can be clothed or nude, depending on how naughty the sender wants to be. In some of these sexy selfies you will notice some of the shots are taken with a mirror and some are using their camera facing themselves. Selfies can be a really intimate way to express your sexuality to another person. It has been proven to be one of the best techniques for sealing the deal.
---
---
During your browsing of hot local members who want to sext speed date, you will probably notice lots of selfies.  Once you chat with members who you think are hot or interesting, you could discuss trading selfies, perhaps even trading nude selfies. If you can get the other person sexting and willing to send you pictures, you are most likely to get some action!
Side Note: Make sure you don't come off like a jerk. Nobody likes it when you ask for a nude right off the bat. Make sure you're tactful about it. Talk for a bit and get to know each other, feel it out and make the other person comfortable. I promise if you heed that advice, you will get laid much more often.
---
Sexy Selfies Photo Gallery
Please enjoy these hand-picked, sexy selfies from members of Adult Speed Dates. If you enjoy some of these hot pictures, please feel free to share and like them. Also leave a comment and let us know how you feel about these pix. Feedback is always welcome and appreciate. Make sure to check back soon, more photos are being added weekly: